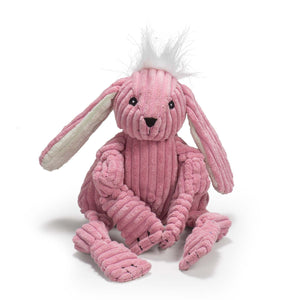 HuggleHounds Bunny Knottie™ Dog Toy
Our original design—a friend for your best friend!
Hugglehounds® Knotties® are the original knotted, plush dog toy! Knotties® are the most durable plush dog toys available for dogs and puppies. All Knotties® are made with exclusive Tuffut Technology®, a durable three-layer lining on the inside that stays soft and cuddly on the outside.
As they are sized way down for our smaller doggos, Wee™️ toys do not feature Tuffut Technology®, and contain only one squeaker.
Wee Toy measure approximately 6.5" Tall x 2.5" Wide x .75" Deep.
Small Toy measures approximately 9" Tall x 5" Wide x 3" Deep.
Large Toy measures approximately 15" Tall x 9" Wide x 3" Deep.
SKU: 10071
Give Your Pup Extra Bounce
Bunny Knottie™ is mild-mannered but full of energy, and is compatible with doggos who like to snuggle as much as they like a good springtime romp in a meadow of flowers. Bunny is a great pal, and wants to be there for it all: for the tug o' war, for the long naps underneath the coffee table, and for a good dig in the yard. She's looking for a pup who will be her bestie through it all.
CARE INSTRUCTIONS
All HuggleHounds® Knotties®, plush toys, and our full line of Hugglefleece® products may be safely machine washed at low temps and tumble-dried.
HuggleHounds® Ruff-Tex®, Naturals™, and HuggleHide® toys should be cleaned by wiping with a damp cloth, then allow to air-dry.
---
We Also Recommend